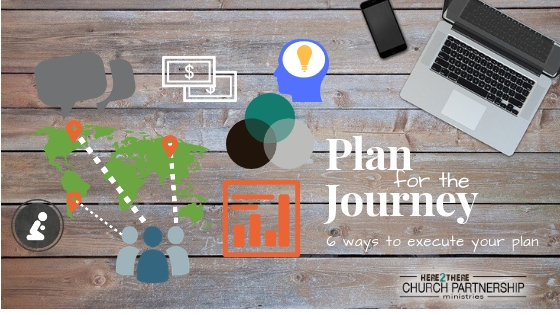 Plan your (missions) journey
Poor Moses, he's the butt of every illustration or joke pertaining to strategy, planning, asking for directions, humility and the list goes on. His wandering in the desert set him up for the whole world to know about him and his navigational challenges. But, what a perfect example Moses truly is on not following the plan laid out before him. For all my planners out there, don't you just cringe when you read the story of the Israelite's in the desert for so long, when you know they were so close to where they needed to be!!!!
Having a clear and detailed plan for your church's mission focus is a must if you desire to reach all nations with the Gospel. Acts 1:8 is very clear of our plan, and they've done the hard part for you in deciding your targeted goals "…you will be my witnesses in all of Jerusalem, Judea, Samaria and the Uttermost".
You've heard the expression, 'Hope is not a strategy', well in the world of missions the word "support" has a similar meaning… it doesn't fully provide the missionaries what they truly need from their churches. It is vague, non-specific, not goal driven and doesn't let you know where exactly it is you're heading in your relationship with your missionaries. You 'support' your missionaries, but how exactly?
There are advantages of having a partnership plan or a strategy for your missions focus.
Simplifies the decision-making process.
No more waiting for missionaries to come to you to present their work and ask for support. You know ahead of time where God is leading you and what you are doing in those areas. It also helps you identify the next set of missionaries that are already in your church.
Creates Natural Leaders
Because of the clearly laid out plans and goals in a partnership strategy, leaders will naturally gravitate to the places where they are needed most and start using their gifts, and those gifts match the needs. This eliminates mismatched volunteers
Clears up space on your plate.
Partnerships define the details of who, what, when and how and now others can use that standard for how they carry out the ministry. People no longer have to wait for you to clearly lay out every detail of the plan, they can see where they are heading and what the partnership needs to look like and they can start running.
Reaches goals
A strategic plan for missions gives you an advantage on your target because you can now plan better knowing where you are heading, what the needs are, what it takes to get you there and then start moving.
Eliminates Frustration
Look at our list here… you have simplified the process, found the right people to do it – so you don't have to – and you are reaching your targeted goals. This means people are sharing the Gospel and you made it happen! See, celebration!!! We can get so wound up because people aren't doing anything to help us accomplish the vision often because we didn't help them know how.
Gives missionaries what they really need
Partnerships work on a common goal, increased communication and permission to be open and honest. This gives the missionaries the ability to show you their true needs and you the opportunity to meet them specifically not just throwing money at them to figure out how to do it on their own.
In the beginning phases of H2T I was constantly frustrated with the team, with the outcome of work we were doing, with the lack of initiation… and it put a ton of stress on me, and that was transferred to my team. As I grew in understanding, running a business, getting help from others, I realized my frustrations were all on me. I was not setting out clear directions, expectations, vision or plan for where I wanted us to go. I was trying to let it happen organically and not micromanage, but what I was really doing is not give a good plan to the vision.
Without a plan you are wandering, you are tired because you are doing all the work (because others aren't helping) and you aren't arriving at the vision God gave you nor helping the people who are there to get you to your goals (the missionaries).
STOP WANDERING and start planning, start raising up more missionaries, start giving your missionaries what they really need, start moving into your promised land!!!
H2T is here to help you if you are in the desert and need help making plans or know what to do with the plans you've been given. Call us – 904-885-5706 today to start working out your plan for the nations!
Stefanie Nicholson
Founder and Director